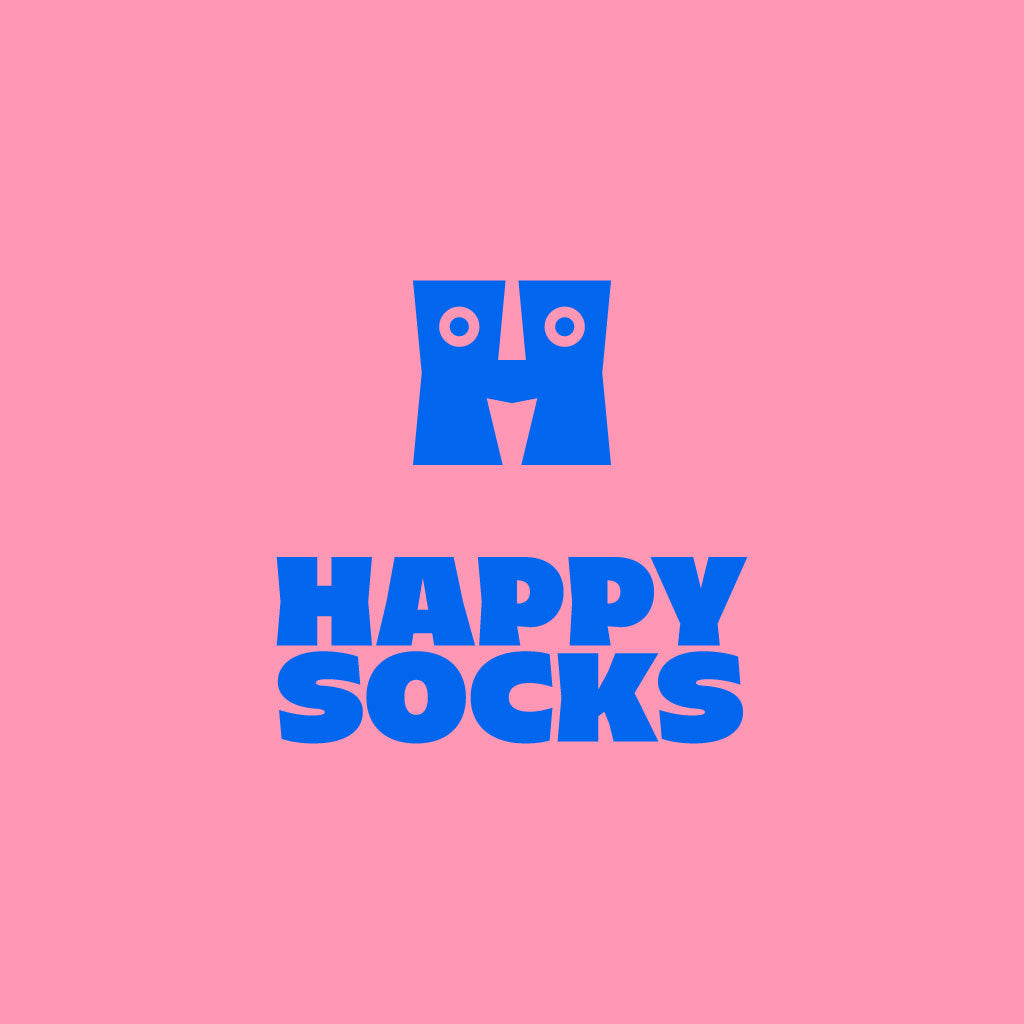 Happy Socks
Happy Socks is a Swedish manufacturer and retailer of socks, underwear and swimwear. Since 2008, the brand's vision has been to spread joy by transforming everyday accessories into colourful designer products.
Today, Happy Socks offers professionally made, high quality and fun designer socks and apparel and has gained a loyal fan base. In our online shop we offer a wide range of Happy Socks for both adults and children, perfect as a gift for yourself or as a present for a friend or loved one.
(Probably) the world's nicest way to spread joy around the world!
Unique and personalised socks since 2008
Started in 2008 by a couple of Swedish friends, it quickly became a phenomenon that spread around the world, with designs ranging from popular culture and food to more artistic designs that can be worn with the most stylish outfits. Today, Happy Socks is one of the most loved brands by both users and stores alike, able to express unique and personal styles around the world through colour and design.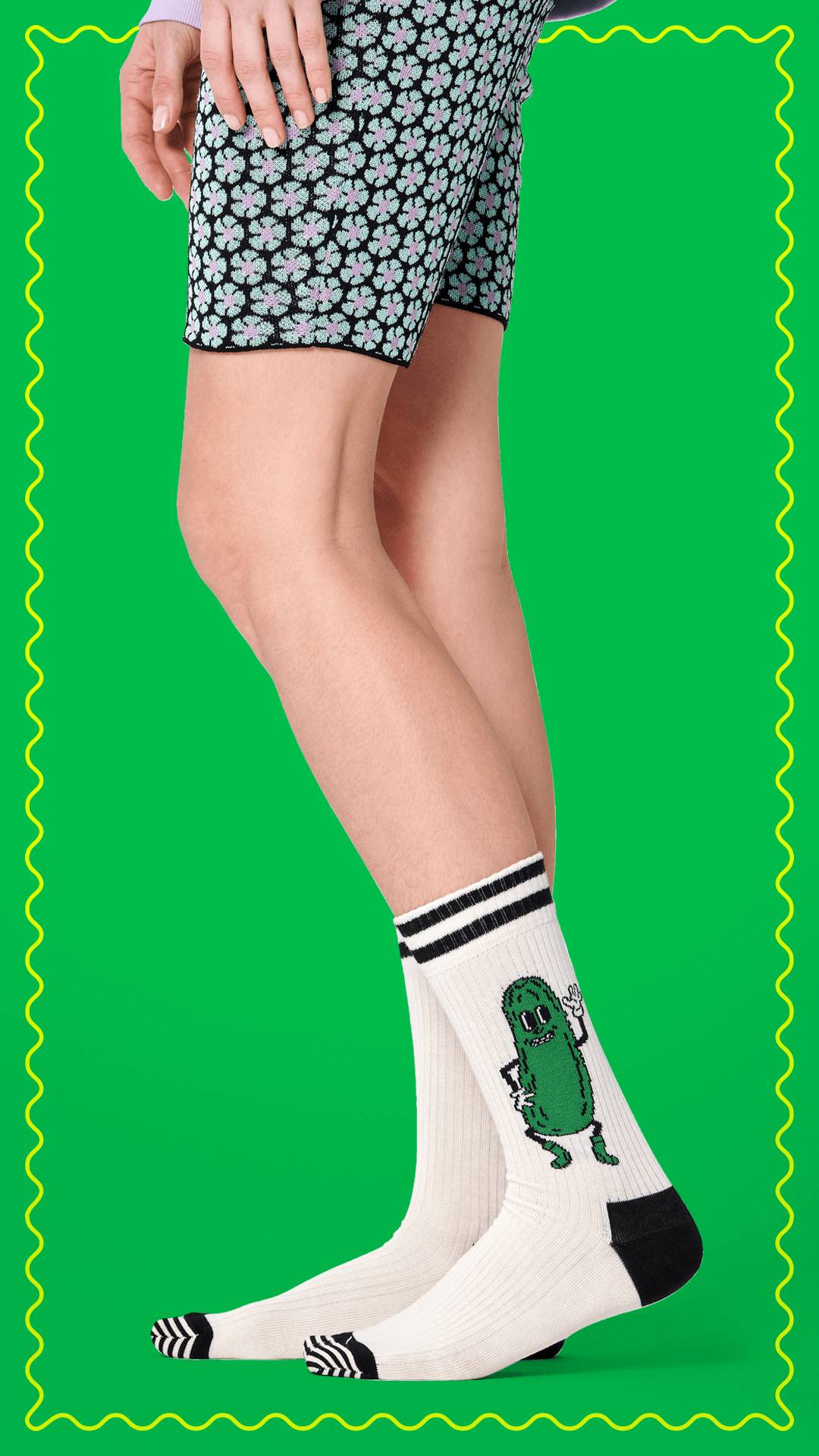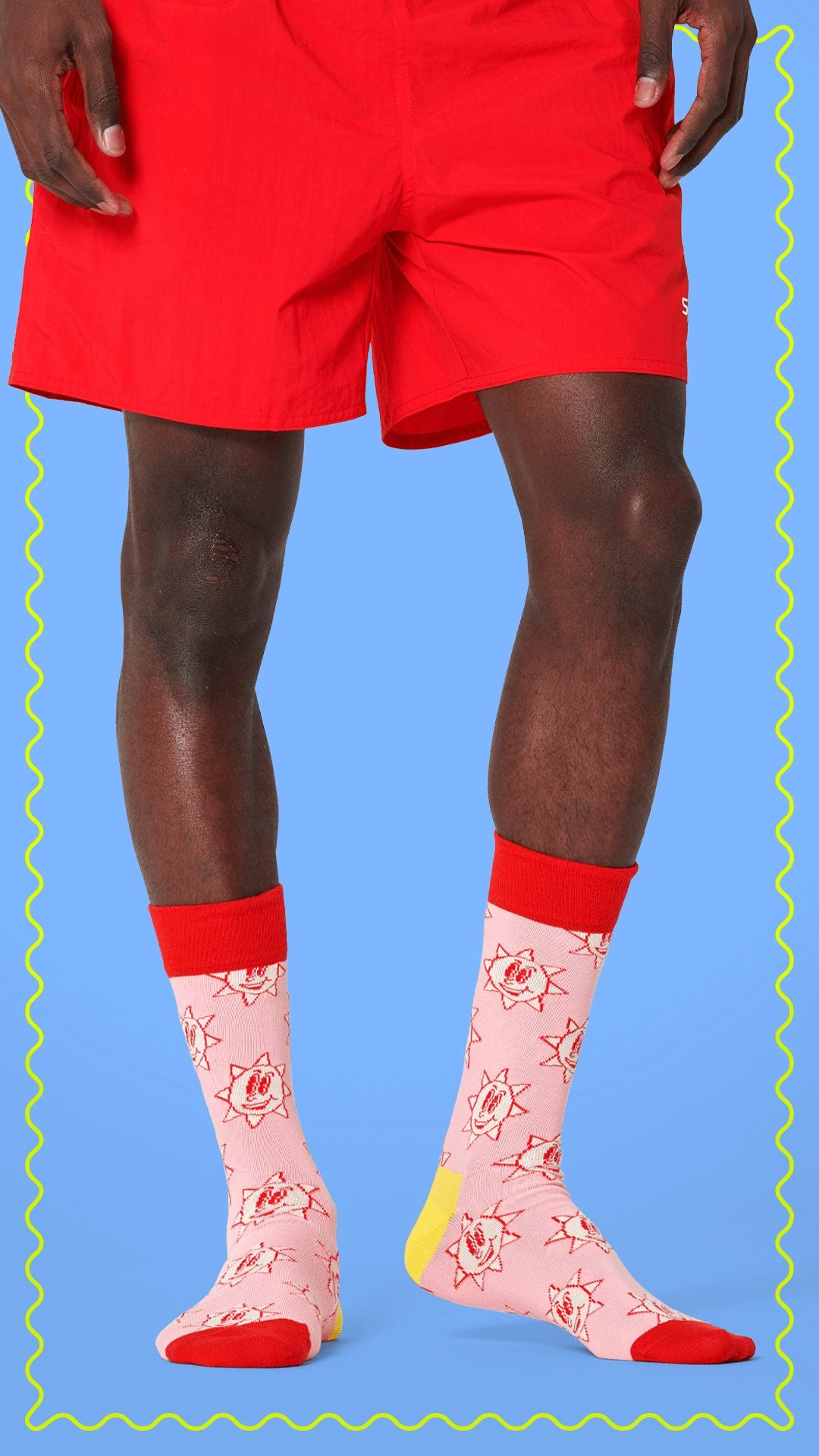 Fun socks for both men and women.
Since the beginning, Happy Socks has been dedicated to transforming everyday accessories into something unique that stands out and grabs people's attention. In the same way, at Bonmarks we aim to offer a wide range of high quality products, fun patterns and lovely colours for men, women and children.
Mix and match fresh pairs of socks yourself or order a box of well-chosen socks. A multi-pack of trendy socks is also the perfect gift to give.
According to Happy Socks themselves, they make great socks. And we can only agree! They design eye-catching patterns and details while focusing on finding more durable materials, as new products constantly strive to outperform the previous ones. The constant search for materials that make their socks both softer and stronger makes Happy Socks a brand that stands the test of time in style.
Happy Socks - Apple Sock
Regular price

Sale price

€11,90
Share
Keep boredom out of your sock drawer with Happy Socks.
If you're looking for something fresh to lift your look, Happy Socks makes it easy to choose a pair of socks that will make people around you look at you again. Each season also brings new styles, all of which will make your toes smile and your sock drawer shine when you open it.

As Happy Socks themselves says: "Lots of quality, a dash of novelty and a healthy dose of weirdness - that's how we keep boredom out of your sock drawer all year round."
Vibrant and expressive models

Happy Socks offers a wide range of vibrant and expressive designs to help you showcase your unique personality and style. From bold patterns to playful prints, their socks bring colour and excitement to any outfit and impress with every step.

Unmatched comfort and quality

Happy Socks are made with extreme care and attention to detail using the highest quality materials for exceptional comfort and durability. With softness, breathability and a perfect fit, these socks are designed to provide all-day comfort and keep your feet comfortable and happy.

The perfect gift option

Whether it's for birthdays, holidays or just to show your appreciation, Happy Socks are a fun and thoughtful gift choice that will put a smile on everyone's face. Spread joy and happiness with a pair of Happy Socks.
The story of Happy Socks
Happy Socks has grown its turnover by around 50% every year since it started in 2008. As collaboration is an important part of Happy Socks' business, its trendy prints have attracted many celebrities, and over the years it has collaborated with popular and inspiring creators and groups, including the Rolling Stones, Dame Zandra Rhodes, Hassan Hajjaj, Snoop Dogg, Iris Apfel, Monty Python, David Hasselhoff, Macaulay Culkin, David La Chappelle, Steve Aoki, A$AP Rocky, Miike Snow, Iris Apfel and Ellen Von Unwerth.
Iconic and trend-setting patterns
The company has produced several high-profile advertisements that have received widespread attention. For example, when the brand celebrated its 10th anniversary in 2018, it released a design paying tribute to costume designer Andy Warhol and a collaboration with artist Wiz Khalifa, further cementing Happy Socks' position in pop culture.
Personaliszd and timeless high quality socks
Happy Socks has undoubtedly made its mark on history with its iconic and trendy designs. Just like Happy Socks, we at Bonmark love colour, style and practical accessories that make everyday life more enjoyable. Whatever the colour or design, the options are endless. In our online store, we offer a wide range of Happy Socks for both adults and children, all packaged in eco-friendly and partially recycled packaging materials.
FAQs about Happy Socks.
What sets Happy Socks apart from other sock brands?

Happy Socks is renowned for its unique blend of vibrant colors, playful designs, and exceptional quality. Each pair of socks is crafted with care and attention to detail, making them a true expression of individuality and style.
Are Happy Socks comfortable to wear?

Absolutely! Happy Socks are made with premium quality materials, including soft combed cotton, which ensures a comfortable and cozy fit. They are designed with reinforced toes and heels for added durability and feature a seamless construction for a smooth and irritation-free experience.
Can I find socks to match my personal style with Happy Socks?

Definitely! Happy Socks offers a wide range of designs and patterns to suit every taste and occasion. Whether you prefer bold and colorful, subtle and sophisticated, or playful and whimsical styles, there is a pair of Happy Socks that perfectly matches your personal style.
Are Happy Socks suitable for all shoe sizes?

Yes, Happy Socks are designed to accommodate a range of shoe sizes. They come in various sizes, including small, medium, and large, to ensure a comfortable and secure fit for both men and women. Please refer to the size chart provided on our website for guidance in selecting the right size for you.
Are Happy Socks suitable for sensitive skin?

Absolutely! Happy Socks are crafted from high-quality materials that are gentle on the skin, making them suitable for individuals with sensitive skin. The soft combed cotton and seamless construction minimize irritation and ensure a comfortable wearing experience.
How should I care for my Happy Socks?

Taking care of your Happy Socks is simple. We recommend washing them inside out, using a gentle cycle and cold water. Avoid using bleach or harsh detergents that can damage the vibrant colors. For best results, air-dry your socks or use a low-temperature setting if using a dryer.